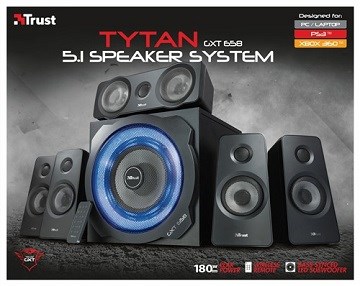 Treat yourself to great surround sound
Trust GXT 658, this is a set of high-end speakers that is designed specifically for video game lovers. This modern loudspeaker type 5.1 it will provide you with perfect sound and will also become a stylish decoration of your computer corner. It stands out for its innovative design and can also boast of being effective by backlighting the subwoofer.
You will appreciate the top-quality sound with these speakers not only when playing, but also when watching movies or listening to music.
---
High performance
The Trust GXT 658 set consists of five satellite speakers a one wooden subwoofer (of a special bass tone speaker). Works with performance 180 W and can deal with the reproduction of sounds about frequencies 200 Hz to 20 kHz. So you can look forward to the great sound of every deep and high note.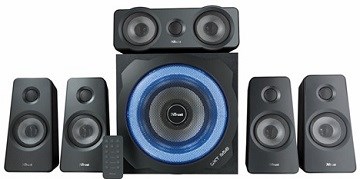 ---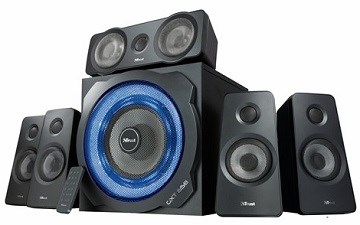 Suitable for PC and consoles
You can easily connect the Trust GXT 658 speakers to your desktop computer or laptop, but also to some game consoles. The device is fully compatible with consoles Wii, Sony PlayStation 3 a Xbox 360.
Our package also includes remote control, with which you can easily operate the speakers.
---
Description and parameters Trust GXT 658 Tytan speaker / 5.1 / LED subwoofer backlight / 180W / 3 x 3,5mm / remote control
Performance
Audio output channels
5.1 channels/channels
Recommended use
Universal
Type of remote control
Wireless